The Valiance Expedition
The Valiance Expedition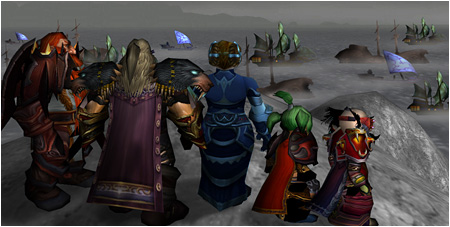 Ringo Flinthammer slipped the goggles up off his head. He no longer needed them to see the approaching ships.
"Stormwind, Ironforge, Darnassus," he said, pointing to the flags of the ships cutting through the Frozen Sea below.
"I see Theramore!" squealed Widge Gearloose.
"There is something really wrong with you," Voca Lodestone muttered beside him. "It's not like Jaina is on the ship, looking for you or anything."
Widge stuck his tongue out at her and said nothing.
"They're all heading west," Beli Flinthammer muttered. Since hearing about the new undead plague and the attacks on Alliance nations, she had spoken rarely, eaten little and slept less. "Let's get going."
"With some more time, I'm sure I can figure out how to de-ice the rotors on our gyrocopters," Widge said, trailing off as he saw Beli wasn't listening, and was climbing onto the back of Sam the Ram and preparing to head out, with or without them. "But we can worry about that later."
"Aye," Ringo said, climbing back onto Frostmaw's back. "Let's ride."