Happy New Year!
Happy New Year!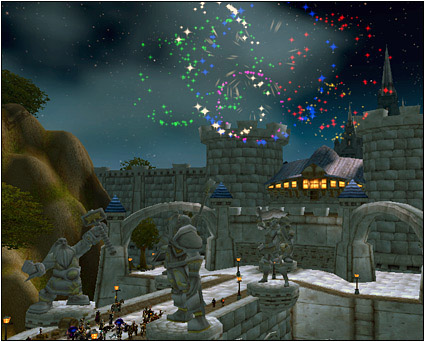 A crowd gathered at the gates of Stormwind to ring in the new year, boisterous with their overflowing mugs and wine goblets. Many familiar faces swirled around me — old friends and new raised their mugs, greeting me warmly as I passed by. I was in search of a good spot for the upcoming firework show, away from towering heads and floppy hats, when me eyes looked upon an old friend I'd never thought I'd see.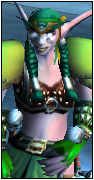 She stood before me with faintly glowing eyes, green braids brushing her shoulders, and a pleased smile dancing upon her lips. I knew she was proud of herself for entering the city walls undetected. With an outstretched hand, she beckoned me to follow her back through the gate, towards the forest.
We climbed the nearby hills, sliding and skidding over the slope, until we jumped onto the wall overlooking the Valley of Heroes along with the other people who found their way there. There were no guards on patrol there. It was a magnificent view of the city, of the cheering crowd below, and the open sky above.
She flickered briefly — her skin then shriveled and tore, exposing the bones around her joints. Her green hair shortened to purple spikes shooting upwards from her head. The white glow of her eyes dimmed to yellow. She stood before me, a rotting carcass. Her illusion was finally broken.
While I did not believe she was the same person I knew when she was alive, she walked the same, talked the same, and laughed the same. Even when we had clashed on the battlegrounds, she expressed the same exuberance towards me. I couldn't help but remain friends with her.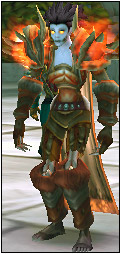 When the clock struck the midnight hour, fireworks expoded over the city. The crowd broke out into wild applause — cheering and whistling. I raised me mug and me voice. Even though she could no longer understand me, I knew she somehow still did.
Should auld acquaintance be forgot,
And never brought to mind?
Should auld acquaintance be forgot,
And auld lang syne!
For auld lang syne, my dear,
For auld lang syne.
We'll take a cup o' kindness yet,
For auld lang syne.