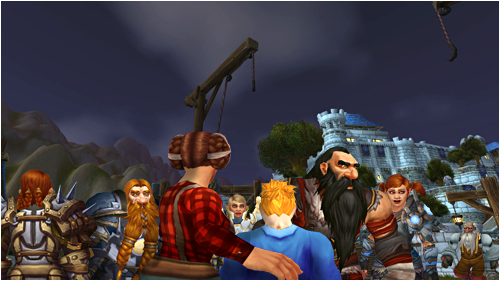 "Flinthammer! Lt. Commander Flinthammer!"
Beli Flinthammer's shoulders tensed, and she refused to look to see who in the crowd was yelling at her.
"Mom, that dwarf is calling you," Bael said, tugging her sleeve.
"I know, it's just … complicated."
And then the dwarf shoved his way through the people thronging the docks of Stormwind Harbor.
"Ye're Lt. Commander Flinthammer, aren't ye?" the dwarf panted, carrying what looked like all his worldly possessions in an overstuffed backpack. "Ah fought under yer command in Alterac Valley. Ah was an adventurer like you, then Ah took an arrow in the knee."
"I just have one of those faces," Beli said, giving Bael a warning squeeze on the shoulder to keep her son quiet. "My name is Azora Rockbottom."
"Oh, my mistake. Ah should have realized. Lt. Commander Flinthammer is in the Broken Isles, Ah reckon."