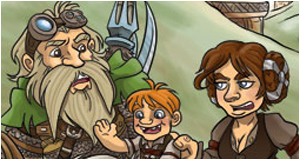 Check out this great piece by Inkbard of the Flinthammers going on a family outing in Loch Modan! Very flattering — and a great job of capturing the family's personalities and wardrobe styles.
(And yes, the Uldum adventures are coming SoonTM.)
You can follow any responses to this entry through the RSS 2.0 feed. You can skip to the end and leave a response. Pinging is currently not allowed.