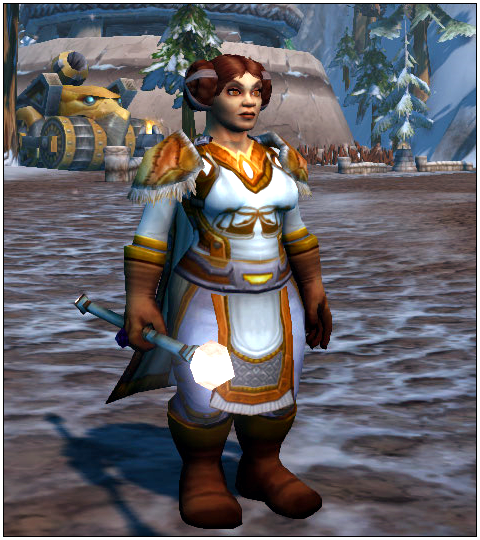 This ensemble, built around the Sawed Off guild tabard, has been my go-to transmog over the years. The white color represents the snow of Khaz Modan while the brown color represents the deep earth that the Ironforge dwarves have fortified themselves in. The silver and gold trims reflect the metals found in fine dwarven craftsmanship. The fur fringes provide warmth against the chill and is a personal nod towards Frostmaw, Ringo's long-time bear companion. I favor this outfit for its overall simplicity and practicality along with its layers of sentimentality.
Personally I prefer to carry maces like a proper dwarf priest when opportunity allows, however, the Crackling Staff is near and dear to my heart. It is a simple white crystal staff from Alterac Valley — a snow-covered dwarven PvP battleground that I spent many months in. At the time, the only reward for reaching exalted status with an Alliance race was to unlock racial-specific mounts for purchase. There were no incentives for dwarven players to reach exalted with Ironforge since we already had access to our own rams early on, but it was unthinkable to me to reach exalted with another race before my own. I even made sure that handing over armor scraps to a dwarven NPC, Murgot Deepforge, was the final action in reaching exalted. So anytime I'm not wielding a mace and a stick of dynamite, you'll see me running around with this staff instead!
Transmogrifications
Head: Hidden (or Alaina's Bonnet)
Shoulders: Outlander's Pauldrons
Cloak: Mantle of Vivification
Chest: Barbaric Linen Vest
Shirt: Officer's Shirt
Tabard: Renowned Guild Tabard
Belt: Sash of Arcane Visions
Bracer: Rocket-Fuel Soaked Bracer
Gloves: Evidence Collection Gloves
Pants: Leggings of Charity (or Archaeologist's Pants)
Boots: Harvester Boots
Weapon: Crackling Staff
You can follow any responses to this entry through the RSS 2.0 feed. You can skip to the end and leave a response. Pinging is currently not allowed.