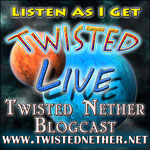 Ringo (and maybe Beli) will be a guest on the January 7, 2010 episode of the Twisted Nether Blogcast, discussing blogging, World of Warcraft and the moral turpitude of night elves. (Well, if we can sneak that last one in.)
The show is streamed live via Skype, starting at 8 p.m. PST, so you can hop into the chat room and participate.
There will be a link to the archived version of the show posted at Flinthammer Hall after it goes out via podcast.