I was roused from me sleep early morn when Ringo shook the bed as cookie crumbs fell from his beard onto the sheets. Before I could pull the covers back over me head, he tells me that Greatfather Winter has left surprises under the tree!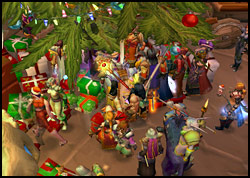 I did not want to fumble around for a clean robe so I grabbed Ringo's overalls and undershirt on the chair next to me bed and ran to the entrance of Ironforge where the great tree was. Sure enough, there was a crowd milling around — humans, gnomes, and night elves shaking the presents, trying to figure out which one they wanted. One of the goblins told me I could take up to five presents so I elbowed me way through, accidentally stepping on a few fingers, and snatched the prettiest boxes I could find.
I bit off the strings and tore through the wrappings to find five yummy eggnog in little containers, five delicious gingerbread cookies, a little red helper and a mini-snowman! Other folks were winding up their little green helpers, tiny reindeer and snowmen toys so they'd dance and jingle.
What a great way to wake up — Happy Winter's Veil!