A Long Way from Home
A Long Way from Home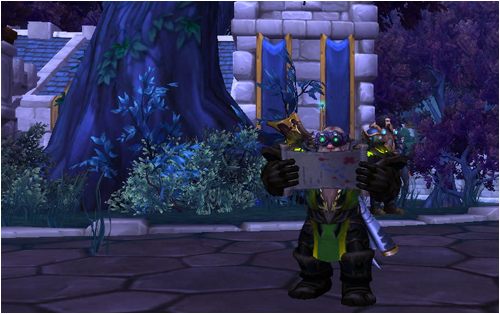 "Dearest Beli and Bael:

"Another Feast of Winters Veil you're spending without me. I'm sorry I'm missing it once again — sorrier than most years, because I did not get a chance to warn you I was saying goodbye.
"As you have probably heard by now, we survived our trip through the Dark Portal. I don't know why it turned red, exactly, although Widge keeps trying to explain it to me, but we ended up in the past of Draenor. Or maybe a past of Draenor: Widge says it's close, but not exactly the same as the one Garrosh Hellscram was born on. In any case, the Mag'har of this time have been turned into a war machine under the command of Grommash Hellscream, although Garrosh is obviously somewhere in the shadows, whipping the Iron Horde up into a frenzy against the Alliance and Stormwind.
"Widge, Vamen, Baelan and I are now stationed in the Alliance base of [REDACTED], in [REDACTED]. [REDACTED] is nothing like we remember it from Outland, Beli: It's a beautiful [REDACTED] land, full of [REDACTED] [REDACTED] and [REDACTED] [REDACTED]. Widge and I have been taking shifts in the base's [REDACTED] and other times, we go on patrol and other missions with the others.
"I reckon you've heard about Commander [REDACTED] back on Azeroth. We don't see much of [REDACTED], as [REDACTED] is always off with Khadgar, it seems like, or on secret missions of one sort or another. There's no Winters Veil decorations up at [REDACTED] and I'm told there's not any at [REDACTED], either. But the commander did prevail upon Khadgar to get portals open for us to send mail through to our loved ones for the holiday.
"Frostmaw is here with me and fine, although he's had to stay back at [REDACTED] during raids; the commander's got some new ideas about maximum [REDACTED] during missions.
"I've attached some [REDACTED] [REDACTED] for you, Beli, and a [REDACTED] made by the native draenei for you, Bael. I'm hoping the Alliance censors let those through, seeing as it's the holidays.
"I am sorry I could not be there with you. Everything happened so fast this time, and the threat of the Iron Horde was so great, to you and all of us, I had to head to the front immediately. I promised to be take you fishing, Bael, and I will be back as soon as I can, to do just that. Beli, I've promised you so many things, and I mean to honor all of them. We will finish this as soon as possible, and without making the same mistakes that tore Draenor apart during the Second War, I hope. Take care of your mother, Bael.
"I love you both and I will be home as soon as I can.
"Merry Feast of Winters Veil, Ringo"