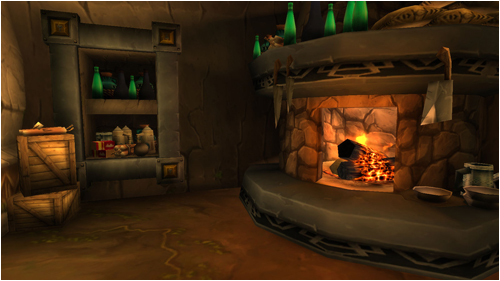 The great black lion rolled over onto his back and, without opening his eyes, released a blast of flatulence that made Beli Flinthammer's eyes water.
"Eonar protect us, even without that bear around, it still smells like farts in here all the time!"
Bael Flinthammer snickered, and rubbed the great cat's belly.
"It reminds me of Dad."
Beli put down a bag, thought about this, and nodded.
"Aye. Now, somehow, even though we were barely able to bring anything when we left Stormwind, it's turned into way too much stuff now that we've finally got our own place, just you and me."
The dwarf and gnome refugees had spent the last few weeks busy, carving out more homes in the base of the Arathi cliffs, all the while being careful to attract no notice from the ships they occasionally saw sailing past on the Forbidding Sea — purple-sailed ships flying the flag of the Banshee Queen, black-sailed pirates or other, more mysterious ships. The refugees were craftspeople, merchants and farmers. There weren't any who had ever seen much combat besides Beli.
"Careful with that, Bael!"
She reached out, grabbing the pale wooden shaft.
"That's my Alterac Valley staff; it's not a toy."
"Sorry, Mommy — Mom," Bael said, handing the staff back to her.