A mother's worries
A mother's worries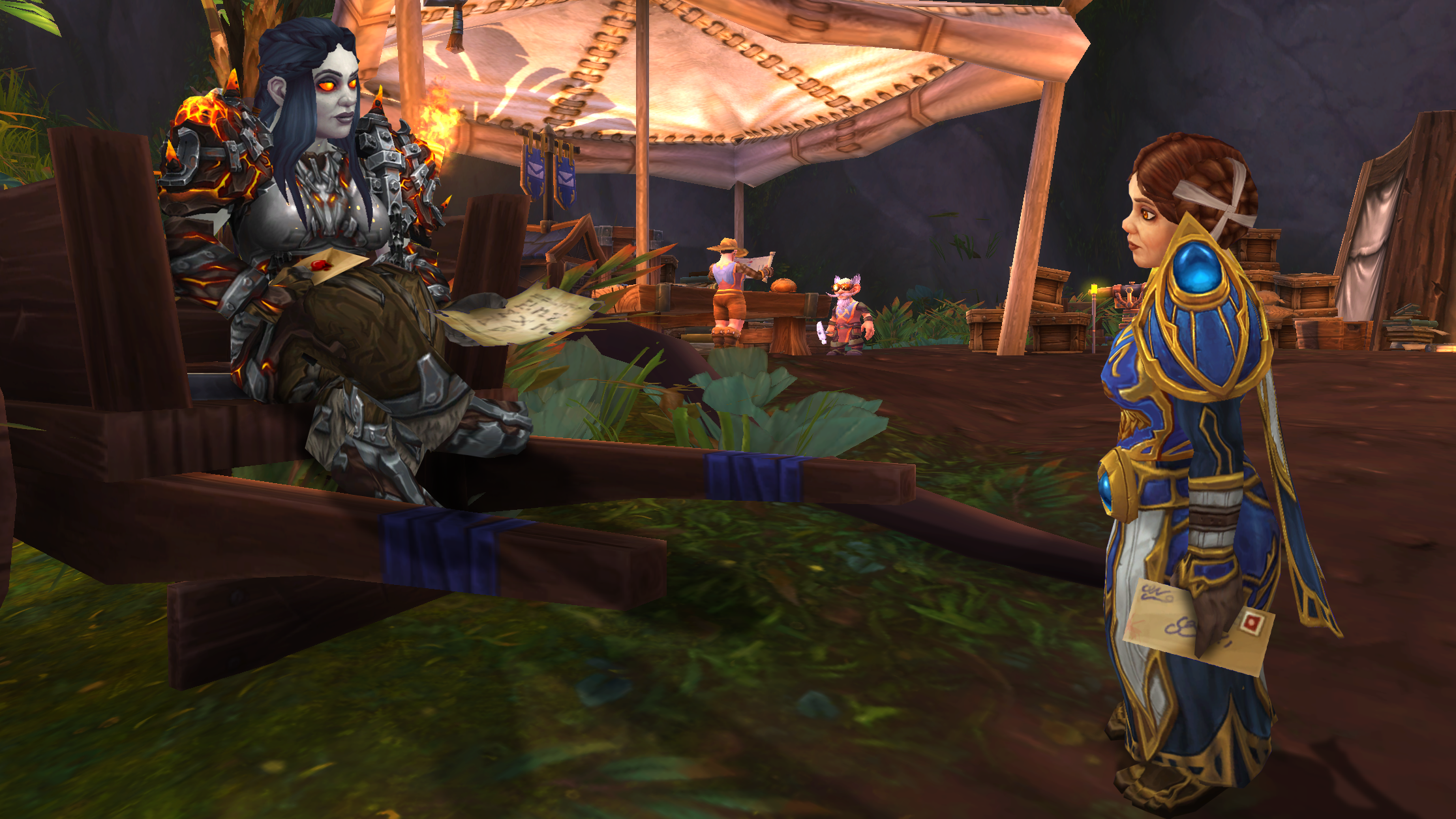 Beli Flinthammer slapped at her neck.
The enormous Zuldazar mosquito burst with a sickening plop and she shuddered. The mosquitos of the Wetlands had nothing on these beasts.

She wiped the blood and insect guts off her neck and yelped in alarm.
"Not the letter, you little bastard!" Beli frantically tried to clean the spattered blood and goo off the letter, then scraped at it with her fingernail.
"Letter from home, eh?" came a woman's voice nearby.
Beli looked over. A Dark Iron woman nodded ruefully at her, lifting a letter of her own.
"Letter from my daughter," she said. "Meant to be here for the Feast of Winter Veil, but I guess it got delayed."
"Same here," Beli replied. " Letter from my son."
The Alliance outpost in Xibala was dominated by the Dark Irons, which meant Dwarvish food almost as good as home, even if they favored a smokier, spicier flavor than Beli was used to back home.
"At least they're not censored like during Operation Legionfall. My brother-in-law was a postmaster and thought it was cute to censor every other blessed word."
The Dark Iron woman snorted.
"Thanks; first good laugh I've had for weeks."
"Miss the wee one?" Beli said.
"Aye," the other woman said. "Her father and I … well, it's my first campaign without having a parent there to watch over Marisi."
Beli nodded.
"I understand. My husband, he's called up or volunteered for every campaign since Ahn'Qiraj. I always reckoned he had it easier, bein' busy at the front, with no time to miss Bael and me. But …"
"They're both hard."
"Aye," Beli said.
The Dark Iron woman carefully refolded her letter and tucked it away inside her mail armor, then extended a hand.
"Kildris Blackfire."
"Beli Flinthammer," Beli said, shaking Kildris' hand.
"Happy Feast of Winter Veil."
"Happy Feast of Winter Veil. May we be back home for the next one."