The Guns of Khaz Modan, Part 1
The Guns of Khaz Modan, Part 1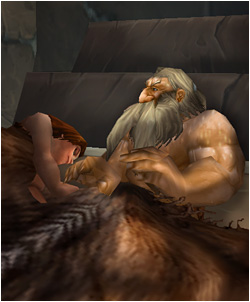 The pounding sounded like drums, like war drums, beaten by an orc astride a great beast, beating furiously, the sound and the vibration rattling teeth and raising hair on the scalp. But it wasn't war drums, although the sound was punctuated by screams and flashes of sickly green light and the roar of huge predators.
Ringo awoke with a soft cry, sitting up in bed, sweat cooling on his skin where the furs had slid off his chest. He blinked, shaking his head of the sight and sounds. Quietly, he slipped out of bed, walking over to the slit window that looked down into the Coldridge Valley from his home in one of the cliff towers built into the mountainside.
There was a soft noise from the bed.
"What is it? Is it the bear?" Beli asked from bed, voice soft and groggy with sleep.
Ringo glanced at the black and white bear cub in his basket, twitching with baby bear dreams. The cub had arrived a week ago, with a note saying "In memory of your mother and father." Even the Explorer's Guild had never seen such a bear, nor could they identify the strange symbol that had signed the note.
"Nay, the bear is fine. I just had a bad dream." He pressed himself against the thick glass of the window, cold on his skin, sweat making warm streaks against the cool glass.
Beli grunted, concerned but too sleepy to stay awake, sinking back into the mounds of furs in the dim light peeping through the slit.
Ringo searched the snowfield beyond the window. The snow was clear, only a few swirls of ice crystals blown off a nearby bluff moving in the stillness of the hour. He closed his eyes and could see the field again, lit by green streaks of fire raining down from the sky, trees shaking free of ice and snow from the impacts, birds and animals racing away in fear from the roar of the infernals climbing from the craters. It was the same dream he'd been having for weeks now.
He opened his eyes again in the dark, mouth dry, voice a whisper.
"The Burning Legion is coming back."