Change of Plans
Change of Plans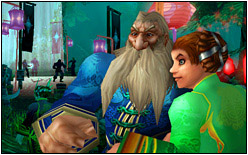 Guumbah had reminded Ringo that we needed to pay our respects in Moonglade and celebrate the defeat of the demi-god, Omen, at the annual Lunar Festival. Just in case Ringo needed more convincing, Clou also pointed out that the soliders abroad were returning home specifically to celebrate and be with loved ones once again. I had done me best to look disappointed when Ringo glanced at me, but I don't think he bought it.
There were fireworks, booze, and booty shaking in Nighthaven. Me face had grown flush from the excitement as I elbowed through the crowd towards Ringo. I accidentally burped in his face and spilled me moonglow on his suit. I found this hysterically funny.
"Beli, I love you," Ringo removed the glass from me hand,"but yer still a lightweight. Even for a dwarf."
He spanked me bottom and planted a wet one on me cheek, "I'm going to go pay me respects to some of the elders. Why don't you go lie down for a bit?"
"How will I know where to find you then?" I stifled a yawn.
Ringo pulled out a wrinkled piece of paper from his pocket and handed it to me. I looked at the parchment — it was filled with meticulous notations. "Widge provided us with directions to all of our elders," Ringo explained. "I am just going to say hi to some of the ones nearby. I will be back for you later and we'll find the rest on that list when yer not so wobbly."
And with that, he left me to me own devices.