A short-lived peace
A short-lived peace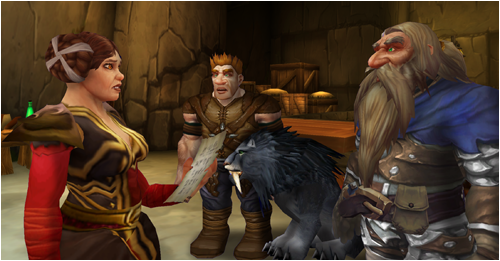 "And that's why it's called the 'marginal tax rate,'" a beaming Ely Flinthammer explained. "Boop!"
Bael Flinthammer stood there, dazed, not even objecting to his uncle booping him.
"Um, I have to take Lucky for a walk. You don't want a lion peeing inside the house."
"Sure, sure," Ely said, sitting back. He craned his head over one shoulder, calling to deeper within the Thelsamar home of his brother Ringo and his wife, Beli. "Are you two planning on having any other children?"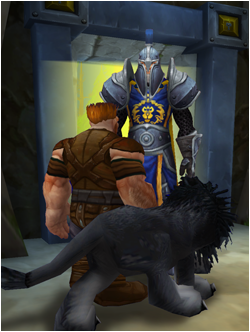 Sunlight from the open door filled the living room.
"Oh, hello," Bael said to the figure in the doorway as Lucky inspected the human with several mighty sniffs.
"Hello," said the man wearing the blue uniform of a Stormwind soldier. "Is Lt. Commander Flinthammer, er, your mother home?"
When Beli returned from the door after about five minutes, she was carrying two letters, one sealed, one unsealed.
"What's goin' on?" Ringo said, having emerged from a deeper chamber of the house in search for some tools to work on one of his rifles. "What's goin' on with yer face?"
"It's Darnassus. The Horde burned Teldrassil. It's … gone."
There was a moment of stunned silence, broken only by Lucky deciding he really did have to go outside. A flabbergasted Bael followed after the black lion with a questioning look, no more sure than the adults about how to feel about all of this.
"So, what are those?" Ringo nodded his chin at the papers in Beli's hand.
"Orders. The Alliance is marching on Lordaeron."