An end and a beginning
An end and a beginning
"Look, you weirdo, just tell us where our friend is."
"FOOLISH MORTAL! YOU ARE NOW TRAPPED WITHIN TORGHAST, TOWER OF THE DAMNED! YOUR SUFFERING WILL LAST MILLIONS OF YEARS!"
"Aye, that's very impressive. Do ye have an index of where ye keep each individual sufferer?"
"WE ASK THE QUESTIONS IN TORGHAST, AS WE TORTURE YOU ENDLESSLY! YOU WILL BEG FOR THE FINAL DEATH, WHICH YOU WILL NEVER BE GRANTED!"
"Her name is Kildris Blackfire. She died on Azeroth, after the end of the Fourth War, and your boss stuck her soul in here. We just want to get a sense of how many floors we have to …"
"YOU CANNOT GET ME TO TELL YOU ANYTHING, MORTALS! YOU HAVE NO IDEA OF THE HORRORS THAT …"
"OK, fine. He's all yours."
"… WHAT?"
"Hey, chuckles. Do ye know what sound a psychopomp makes?"
KA-BOOM
It was impossible to tell how long Ringo and Beli Flinthammer had been climbing Torghast. There appeared to be no day or night cycle in here. At first, they had slept in the tower, one of them keeping watch over the other, but it had proved to be unnecessary, as had eating and drinking. But this soon proved to be its own kind of torture, endlessly climbing the tower, one floor after another, finding themselves on one impossible floor after another, including floating islands of rocks, corridors of blue steel and blood-soaked arenas under burning skies.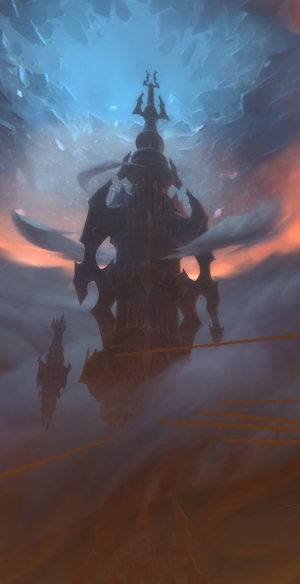 "Ah donnae mind rescuing them again, but Ah wish they'd just escape finally, instead of going and losing their flute again and getting captured again and needing us to rescue them again."
"I don't think they're really here," Beli said. "I think it's just an echo of them, or their soul or a ghost or something."
"It's still a damned nuisance," Ringo grumbled.
And finally, after an interminable period of time in the tower, just two dwarves and a bear endlessly climbing and fighting the forces of the Jailer, there was a faint cry from a wisp in an iron cage.
"Beli? Is that you?"
Beli kicked aside the remains of a metal dog-thing and ran over to the cage.
"Kildris?"
"Yes, I think so …" the twist of white smoke sighed. "We were in Blackrock Mountain and then here …"
"We're here to bring you home," Beli said, reaching back and snapping at Ringo, who handed her a white crystal. The little fragment of identity that remained of Kildris Blackfire was siphoned into the crystal.
Months went by.
And then one day, a ghostly blue bear walked Beli into a private garden with massive seeds glowing softly in the gloom.
"This is hers," the bear said to his wife. "She'll be waking up soon."
"Who are all these other seeds?"
"Gods," Ringo rumbled, ambling over to drink from the waters of the Queen's Conservatory pond. "Ah told you; Ah had to call in some favors."
"Uh, the seed is glowing. More, I mean."
Ringo moved back to the seed, which was shooting forth beams of light.
"Aye, it's time."
He swiped the seed's outer skin with one shimmering claw, turning back into a dwarf as he did so.
Starlight poured out of the seed and the seed's husk quickly weathered away.
"This feels … strange," Kildris' voice said, tinkling like a waterfall. "What comes now?"
Beli, finding herself unable to hug a mass of starlight, stepped back, wiping away a tear.
"We take you to Maladraxxus. It's not the same body as you used to have, but it's a body. You'll be alive and we can take you back to Azeroth and Marisi."
There was a long silence in the Queen's Conservatory.
"I see," Kildris said at last. "In the moments after I died, before I was snatched away to that tower, I was headed for something else. There was a huge, snow-capped volcano. Rams wandered the slopes and gryphons flew overhead. I could see homes and businesses built into the mountain's side, and could hear drinking songs coming from a tavern. I think that's where I was supposed to go before …"
"The Jailer," Beli said quietly.
"… before the Jailer diverted me. I appreciate everything you've done for me, Beli, Ringo. But I am tired. I am ready to go to that mountain and maybe be with my family."
"What about Marisi?" Beli whispered.
"Do you have anything to write with? I need to dictate a letter."
Finally, weeks after that, the sun was setting over Loch Modan. Bael Flinthammer and Marisi Blackfire were climbing the hill to head home, having been called into dinner.
Marisi stopped and pointed at the northwestern sky.
Bael shaded his eyes — he wasn't as comfortable staring into the orange glow of the evening sun as the Dark Iron girl was — and smiled when he saw the proto-drake silhouetted there.
"There's people on his back," Marisi whispered. "Three … no, two."
"Come on," Bael said. "I know where they have to land."
Marisi reached out and grabbed the bigger boy's hand, stopping him.
"Are they going to make me …"
Bael squeezed her hand.
"Not if you don't want to. You're family, Marisi. You'll always have a place with us."
And then the two turned and ran up the hill, into the last rays of sunset.