My Lucky Day
My Lucky Day
"BELI! You may have already WON a million gold! Details inside!�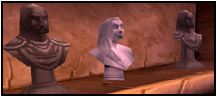 I scoffed as I sorted through the mail, tossing the junk letters into the burning fire. Frostmaw, who had been snoozing on the rug near the fireplace, gave me an irritated growl as a misaimed envelope tripped over his head. I crouched down, patting him as I inspected the last envelope in my hand. It was a red envelope with no return address at it, addressed to me in fancy gold lettering.
I prayed that it wasn't yet another request for me ministering services. Sitting down and writing sermons was one thing, but making it interesting was another and entirely too time-consuming especially when summer days were too short.
Much to me surprise, it wasn't that kind of letter.
"Congratulations Miss Beli!
You have been selected as July's recipient for the 'Patron of the Arts' award!
Enclosed is your questionnaire, fill it out at your leisure, and send it back to me (or any of the other committee members) and we will post it in the Featured Artist's Hall for you!

Congrats again, well deserved!
Saraney
P.S. Take the enclosed certificate to Grand Mason Marblesten at the Royal Stonecutters Union in Ironforge to receive your complimentary trophy.�
Huh. How about that? I did win me some gold after all!