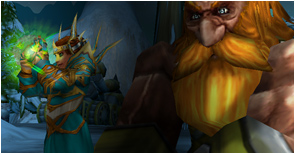 Handing over the last of the armor scraps to Murgot Deepforge, I rubbed me eyes and looked to smoke filled sky that covered Alterac Valley.
"Thanks, Beli! These supplies will help our troops!" The shaggy haired dwarf commended, hauling off the armor scraps to the forge.
For many months now, I had often traveled to the heart of Alterac Mountains and lent a supportive hand to the Dwarven Stormpike Expedition in their ongoing land conflict with the Frostwolf Orcs. Because of the constant onslaught from the orcs, the Stormpike search for natural resources and ancient relics were greatly impeded.
The hour was late and I was in need of rest. I knew someone would arrive to replace me so I reached into me backpack and rubbed me hearthstone. The stone briefly glowed with a green aura and with a rumble of thunder, light enveloped me and portaled me back to Ironforge, me home sweet home.